WHAT IS NETWORKDAYS FUNCTION IN MICROSOFT EXCEL?
In Microsoft Excel, NETWORKDAYS function is used return the whole number of working days (business days) between two dates. Working days exclude weekends and days identified as holidays. By default, NETWORKDAYS function exclude Saturday and Sunday as weekends and will not count in final working days.
SYNTAX OF NETWORKDAYS FUNCTION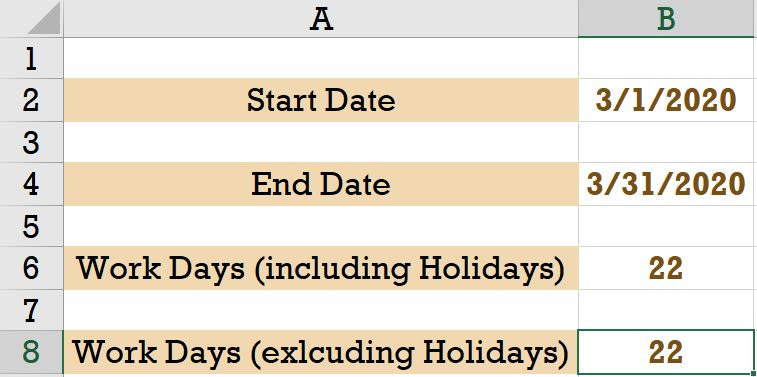 NETWORKDAYS function has 3 functional arguments
=NETWORKDAYS(start_date,end_date,[Holidays])
— start_date, end_date are required arguments and it should be date values
— Holidays is optional argument, we can select a range of cells or Name (to know more about refer my another article about working with names in Excel). Holidays can be state, national, and floating days.
(Check the below video to learn about how to work with NETWORKDAYS function with real time scenarios in detail.)
EXAMPLES OF NETWORKDAYS FUNCTION
| NO | DESCRIPTION | FORMULA | RESULT |
| --- | --- | --- | --- |
| 1 | In cell B2 enter start date as 03/01/2020 , in B4 enter end date as 03/31/2020, and write formula | =NETWORKDAYS(B2,B4) | 22 |
| 2 | In cell B2 enter start date as 03/01/2020 , in B4 enter end date as 03/31/2020, and write formula [Note: in F2 to F10 cells enter 2020 holidays] | =NETWORKDAYS(B2,B4,F2:F10) | 22 |
| 3 | In cell B2 enter start date as 03/01/2020 , in B4 enter end date as 03/31/2020, and write formula [Note: create a name as holidays for a cell range which contains holidays] | =NETWORKDAYS(B2,B4,Holidays) | 22 |
TIPS & TRICKS
By using NETWORKDAYS function we can calculate not only future working days, we can calculate previous working days. For example, if the start date is 04/01/2020 and end date is 01/01/2020 then will get previous working days as negative integers.
We can use this function to create resource planning [explained real time scenario in the above video], forecasting and many more cases.
Click on the following link for practice files : https://app.box.com/s/4swki5dywn61e4iyhs0kua8bbyqruekd
RELATED ARTICLES
Refer the following article for learning about latest NETWORKDAYS.INTL function in Microsoft Excel
Refer the following article for learning about DATE function : http://msofficeguru.in/microsoft-excel/excel-date-function-in-microsoft-excel/
Refer the following article for learning about WEEKDAY function: http://msofficeguru.in/microsoft-excel/excel-weekday-function-in-microsoft-excel/